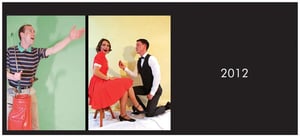 £

7.00
12 months of fabulous ladies and dashing gents to take you through the year. All looks are inspired by fashion eras gone by, from the 1920s through to the 1970s. It makes a fantastic Christmas gift, stylish and colourful while also practical.
All photographs were shot by me, and feature volunteer models from across London.
Product specs:
The calendar has a built-in card stand, and measures 210mm x 95mm.
Printed on premium, 215 gsm card stock with a glossy finish.
About the calendar project:
In March 2012, my partner James will embark on a dog sledding challenge in the Arctic Circle, raising vital funds for Macmillan Cancer Support. 100% of the profits from the sale of this calendar go towards the challenge. To find out more about the challenge, visit The Flatfooted Adventurer.
The Arctic Calendar project started as a pie-in-the-sky idea hatched one Saturday evening in an East London pub. Just 10 days later, I had over 20 models, all volunteering their time to dress in their favourite vintage inspired looks and spend an afternoon playing in front of my camera, all for a good cause. 4 photo shoots and countless hours of editing later, I'm thrilled to be able to offer two calendars, ready for 2012.